Interviews - old site
Interviews
Interview with Edison
Edison, Teil von Papervehicle und ein Monster an seinen Gerätschaften. Genug der Worte, das reicht, um ihn ein bisschen genauer kennen zu lernen.


Who are you? Where did you grow up?
Hi..... im edison.... im a beatmaker / performer / emcee / audio engineer..... i make noise with all my instruments and toys.... and then play them on little buttons, that i build/make..... i like to drink cheap beer... i like to get in the studio at least once a day.... and i have REALLY bad allergies, so i dont sleep much..... i grew up in upstate NY in a little town called burnt hills... its near schenectady, if that helps...


Do your parents know you have fans outside the US?
actually yes!... my folks keep pretty tight tabs on my adventures and mischief.... they are all support... they listen to everything i do, even if it is weirdo fast raps.... big shouts to ron and michele!!!

A thing you love about the city you live in now that you think is not to be taken granted?
i am currently residing in san francisco, CA..... it is the best place in the world.... it has all the big city feel and amenities... but its only 7 miles by 7 miles.... i can get anywhere in 25 minutes on my bike.... the people are weird.... the views are liberal.... and the art is everywhere...


First contact with Hiphop?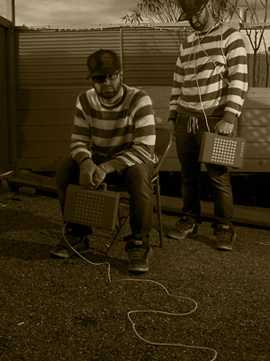 ah..... 4th grade.... run dmc, raising hell.... then in 1990... fear of a black planet... both shocked me, they were so incredible.... i always wanted to rap... but after a while i kinda stopped following it.... wasnt paying attention too much... 2001 aesop rock dropped labor days.... it was 4th grade all over again.... havent stopped making beats since.....

How did you get in touch with Kid Without Radio?
well, the amazing egadz! hosted a night, at a club in my old neighborhood, with e da boss... it was a once a month live beat showcase called "holy thursday". i had seen egadz! video, and i sent him an email about my stuff... he was really stoked and asked me to play.... we just kinda talked a bunch.. and made plans for the album.... very very cool guy....

Are there any changes that could be made pretty easy helping independent artists to live off their art (again) which are surprisingly no topic?
thats complicated... i think at the moment the answer is, do shows in europe.... something survives there that doesnt in the states... i dunno... the internet..... i dunno...... its complicated......


If you collaborate with rappers, what are your criteria? If it is a friend, do you tell him when you don't like his lines much (should the situation arise)?
no criteria.... i think its just about respect... if you're talented, and nice about shit... thats about it.... but i'd say 99% of the collabs are people ive met personally, at some point (before or after i guess)..... thats the best way.... once you meet these folks, you see that its a small community out there.... everyone is working for the same thing... on the same team.... as far as friends lines... no i would never say i dont like them.... thats never been a problem.... i look at it like, sometimes tracks come together, sometimes not... there are no rules to rapping.... only tastes...


Are you happy with the equipment you work with nowadays or do you think of a fundamental piece that needs to be built yet?
i am very happy with my equipment.... my live set up is all things i have built, controlling my laptop.... its really satisfying to play that way.... im always moving things around and trying new things though.... but the fundamentals are there... i like buttons.

Where do you get your inspirations for the beats? Are there some soundscapes you dream of at night which you try to put into your songs? What do you create first? Drums, messing with samples...
i think my biggest inspiration is the city of san francisco.... just being surrounded by so many people and so much activity.... craziness and traffic... its like im always trying to make a soundtrack to it all.... that and the magical 9th avenue bums, always sliding sheet music through my mail slot.... those panhandlers....they like the nasty, gross crunk beats...as for dreams.... i never remember them...... they are probably all about tofu and tangles of wires anyway...... to start tracks, its always different.... i'd say mostly start with drums.... but sometimes melody.... keep em guessing!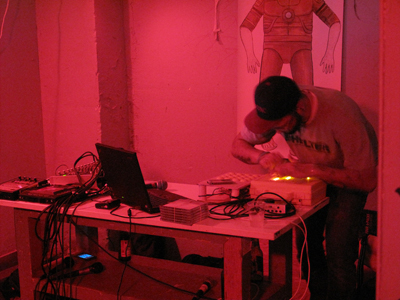 How many edison-beats pop up in an average week?

ah.... that depends on the week!..... when i put together the beats for bluebird and thesis... that was like 11 or 12 in like 2 1/2 weeks.... this new babelfishh EP was like 6 in 3 days...... but then there are some weeks where i just mess with my live set up and dont make anything new.... for my day job.... im a audio engineer, sound designer and composer.... im always making little beats and things there too.... so i guess the easy answer, after the long answer... is im dang busy.....

Some of your homies like to go with beer early in the day, same with you? Other preferred fuel?
hahah.... haha..... 667! cleaver league!!!!!.... i roll with the lost boys.... all different types of folks .... i'd say im one of the more conservative ones.... i need my coffee and bagel in the morning... shit needs to start proper..... if were atta show, or recording though..... beer is the fuel!..... need to stay on point.... but never be uptight ...ya know?

An artist you collect literally every single thing he puts out?
haha... i'm gonna have to say ALL my friends.... i have a massive stack of all the homies stuff... i plan on giving it all to my grandkids.... no joke


A song / beat you wish you made it?
"camp side page burst"..... oskar ohlson is a monster! if you havent picked up b-fishh and oskar's "pinky swear" yet.... you are losing...

An artist you met who was very different as a person than you imagined by listening to his music?
:) .... this year i have met soooooo many folks.... and they have all been different than what i expected.... i just try not to expect anymore...

Favourite authors / books?
ive been trying to find time to finish "story of B" for like over a month now.... im a pretty busy dude.... but daniel quinn is the goddamned shit...


Does a speckled cow care she's speckled? Maybe she would like to be all brown. Or white or green.
i think a cow will wear any coat... so long as its not on a feed lot, eating antibiotic corn...... tofu for life!!!!!! naw, im shure somewhere down the line... some one will figure out how to flip cows though.... i'd put gold spinners and color shift paint with tribal decals on mine.... with a big ass iced out chain piece that read "prime rib 4 real"... thats just me though...

Toys you won't ever buy your children?
teletubbies....

Some plans that are set up definitely? Albums, collaborations...
ah...i just released my new album "all the information at hand" for advance sale (www.kidwithoutradio.com/store)... just finishing up some work for the incredible MISM records!!!.... me babelfishh and beastmaster.... :) i am also just finished with a collab with bleubird and thesis sahib (coming soon on grimm image records), i just sent babelfishh the beats for a 6 song EP (i dont think he's even heard it yet) and our rap crew papervehicle (me, home, mildew and beastmaster) have a full album that we are starting to get together to release, called "commuter our master" .... just sent off a remix for "the instruments" on endemik records... and me and filkoe got some talk goin..... oh and im doing a whole tribute album to the teletubbies...

A message to everybody from Edison himself?
I'll leave you with two quotes....

"Everything comes to him who hustles while he waits."

and

"Hell, there are no rules here... we're trying to accomplish something."
- Thomas Edison

big big shouts to maggie boom!!....
STING!!!!!