Interviews - old site
Interviews
Interview with Héliodrome (Endemik Music)
Beim Namen Endemik fällt dem Indie-Rap-Fan vermutlich als erstes der Name Bleubird ein, einigen anderen auch Filkoe176 oder den des Betreibers Scott Da Ros. Es gibt noch eine Handvoll andere Künstler, die Teil des kanadischen Labels sind, zwei davon waren vor wenigen Monaten auf ihrer zweiten Europa-Tour mit einer Vielzahl verschiedenartiger Konzerte. Dabei gab es auch einen Zwischenhalt in der Schweiz und deshalb wollen wir sie ein wenig näher vorstellen: Khyro und Pascal (y) oder eben Héliodrome.

Hi, uhm, who are you two?
y: I'm a multi-intrumentalist who doesn't consider himself as a musician. My relation to music is oriented around the necessity of touching the sacred, to give myself the chance to live a ceremony in a life made of rational situations. music can give you this level of reality, and it is what i am seeking.

Khyro: First and foremost I like to identify myself as a rapper, even if people don't think of me that way. But I strongly feel it's part of my identity mainly because I've been writing and rapping for the past 15 years. I was also involved in different spheres of the Hip-Hop scene and grew up thinking that Hip-Hop was my way of life. Now people tend to describe me as a poet or spoken word artist... Whatever. Recently I started to play some instruments such as clarinet and modified keyboard, stuff I don't need to know how to play to just play it.

Both of you play several instruments - do you have like a musical education? How did you get in touch with this diversity of instruments? Family members, came accross them at the market...?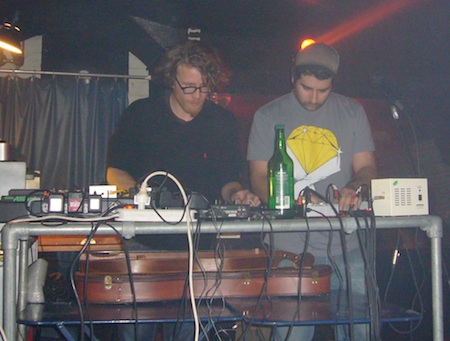 y: No musical education. I learned by myself, got inspired by musicians, have a good ear and tons of curiosity and it gives me the desire to try every instrument that falls into my hands. Everything started with percussions, bought a bongo, annoyed my parents and i finally bought a keyboard and a drum machine so i could plug headphones and play for hours without annoying anyone. A few years ago i bought my first baritone ukulele and that started my relation to strings... after came slide guitar, tenor and five string banjo, dulcimer, and other string instruments. Samplers have also always been around.

K: I took two or three clarinet lessons and got bored... Music for me has nothing to do with rehearsing keys or reading music. Just play the fuck out of your life. I'm a big free-jazz fan, and always loved the sound of the clarinet and it's cheaper than a saxophone.

Half a year ago you had four different live sets ready to perform. How do you choose; depending on the event, your mood, or...?
y: It's all about how we feel the venue and technical consideration. Our sets are never fixed before we get into a place when we are a duo. When other musicians play with us, we try to practice and arrange the set. This is the beauty of Héliodrome, we are able to invent something new on the spot. And this is mainly due to our capacity to take risks. But we should be honest, this capability to play something new at each show can be confusing for people, but it's also a quality.
As non Québecois, it's pretty hard to get your lyrics. What are they about (for example)?
K: Most of the lyrics are about self-exploration and knowledge of self. But a real exploration, not a statement or a motto we shout on record, like I tend to see in all that conscious hip-hop bullshit. I try to expose paths to my subconscious... being surprised by its manifestations in language. Loneliness, love, sex, religion, standing as a man... whatever is in there. Lots of songs are build upon a dreams I have while I sleep.
Do you work together on a song from beginning to end or one of you starts and the other half sees what he can do with it?
y: Well, for the album, we worked on our side and then we mix it. I construct the music structures and Khyro comes up with the lyrics. For improvisation, it's more like a "vase communicant"; we're talking, sharing and playing. We don't have to look at each other, I think we are pretty sensible to the other's playing and we are also on the same wavelength of many things and toughts.
You're pretty unique as Héliodrome. How do crowds in Montréal resp. Canada respond to your stuff when they come out to see you, without knowing what to expect? Or are you famous and all the guys know the words and sing along to your songs?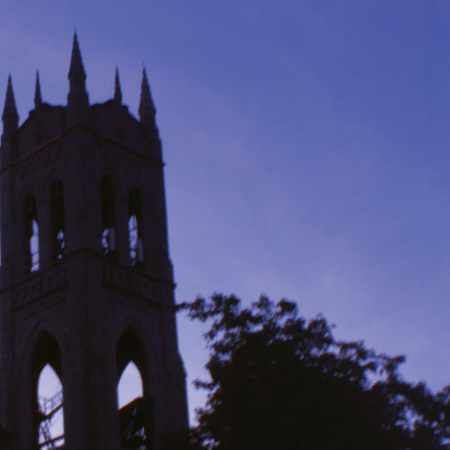 y: We are pretty anonymous in Montreal... me more than Khyro. And Héliodrome is not a well known project. There is so many bands here, it's not so easy to get a dedicated crowd. I think they're always surprised because of the possibility to see a different show each time and they love it or hate it, no in-between feelings. We're not a band of compromises, so the crowd also don't do any compromise. That's it.

K: I guess that's the struggle in Quebec when you do music in french. The market is so small and there's so many bands that you have to fight for exposure. It's as if there's no possibility for the underground to be viable, because of the lack of structures and crowd... Sometimes our shows get pretty experimental and there's not a lot of people here interested in experimental rap...
What kind of live shows do you attend?
K: I guess we attend mostly experimental music shows; noise, free-jazz, weird folk, performance art... Not many hip-hop shows, I do sometimes, but not as much as other genres of music.

y: Yeah, i personally don't go to hip-hop shows, except a few exceptions then the border between genres is harder to tell. I think of clouddead, Why?, Andrew Borden, etc. The shows I attend are more like psychedelic and freak folk, noise and free-jazz. As Khyro said.
Besides this, what is going on in Montréal? What do you think is special about it?
y: The diversity, the amount of artists and the fact that we are influenced by Europe and the rest of America. All this makes montreal a really interesting city for artists. It's also cheap and a good compromise between a village and a big city.

K: Montréal is a busy city, there's so many art/music happenings that it can get alienating sometimes. I guess what makes it really special is what we call "The Great Divide" between French and English languages. Montreal stands as the last possibility for french language to shine on all of North America. People have to be aware of this, there's two linguistic communities coexisting with each other, but not necessarily blending together. It's time to change that and reinstall french as language of arts...

How did you hook up with Scott Da Ros / Endemik?
K: I met Scott through Bleubird. I first encountered Bleubird while he was on tour in like, 2001, with Grand Buffet. I had the chance to open for them in Montreal. We the met afterwards at this graffiti convention called Under Pressure, maybe in 2003. So when Bleubird came to live here, he introduced me to his friend Scott who moved here as well. We had a lot in common, especially similar point of view towards hip-hop and rap, so the association was kind of natural.

The best show you played so far was in... because...
y: For me, Miss Hecker in Berlin... for the energy, the place, the aura, the set and the sacred ceremony we lived while being there. Purely magical in my memory.

K: When we ended our tour last year in Europe, all the shows were pretty intense. This intensity started in Bern and ended in Berlin where we did a improvised set with Jayrope at Madame Claude. That's three shows (including the one ypl mentioned) that I'm not going to forget anytime soon.

An artist you would like to collaborate with?
K: We have a few guests lined up for our next record, people like Mattr, Jayrope, James P Honey and James Reindeer. There's so many other artists we love... We want to collaborate with people who share a similar approach of music and that are friends, people we actually met, or that did a mind altering work of music (Mattr for instance).

y: Would love to play with Paul Metzger, Sonny Murray, Six Organ of Admittance, Terry Riley, Tony Conrad, Chris Corsano, Charlemagne Palestine, Sir Richard Bishop, Tom Bruno, Kid Koala, Paul Flaherty and many others... But I know it's not possible.

What's up with Héliodrome in 2016?
y: A never ending tour, new instruments and twenty new sets.

K: Being programmed in every major festivals in of experimental music in Europe, living in France or Switzerland...

Favourite animal.
y: I have two cats and I'll always prefer them to any other kind of animal. But have a lot of respect for dogs, horses and other animals who helped us and sacrificed their life for us. They are part of human history and they should be respected for that.
Chris Chelios or Jonathan Toews?
K: Mike Cammalleri. Or Chris Chelios, just because he used to play for Montreal when I was a kid. And I think he was in the team when they won the cup in '86. Great memories for an 8 year old. Fuck Toews.
Current projects / records in the making?
y: We're actually working on the next Heliodrome record, which should be out next year or so. We have a collaboration with Jayrope coming out pretty soon as well; an improv session we recorded while we stayed in Berlin. Only instrumental, no lyrics, quite experimental...
You want our readers to let you know that....
y: ... that Khyro has always 'le dernier mot":